Christmas is nothing without trees, stockings, and Santa. While most of us can handle trimming the tree and hanging our stockings, Santa has a few expectations before he comes bounding down the chimney. Mainly:
You have to be nice all year!
You have to leave cookies
If you don't feel confident that you've been nice, you better make some pretty outstanding cookies. Let me help.
Why Chocolate Crinkles are the Best Cookie
This heading is pretty misleading. I'm not bold enough to make the case for "best Christmas cookie". But I will say that your preference for cookie is probably heavily influenced by nostalgia for Christmas past.
Nothing screams nostalgia like an old-fashioned recipe box filled with your mom's handwriting, her mom's handwriting, and even her mom's handwriting. We happen to have one of those around my parents' house.
And so it's only subjectively, and on account of the medium, that this recipe can be declared the best Christmas cookie recipe. I was extra good this year just in case Santa prefers chocolate chip.
The actual recipe below replaces some of the chocolate chips in the above recipe for baker's chocolate, resulting in a slightly healthier cookie. No one has complained yet, but Santa may be more discerning.
On that note, let's take a look at our nutritional info!
Nutrition Facts
| | |
| --- | --- |
| Calories | 0 |
| Total Fat 0g | 0% |
|     Saturated Fat 0g | 0% |
| Total Carbohydrate 0g | 0% |
|     Total Sugars 0g | 0% |
| Christmas Cheer 3000g | 100% |
Huh, look at that.
The best way to spread Christmas cheer is singing loud for all to hear!

Buddy the Elf
Gather Your Ingredients
1 3/4 cups flour
1 tsp. baking powder
1/4 tsp. salt
1 cup sugar
1/2 cup margarine
2 eggs
2 oz. unsweetened chocolate; melted and cooled
1/2 cup chocolate chips
1/2 cup powdered sugar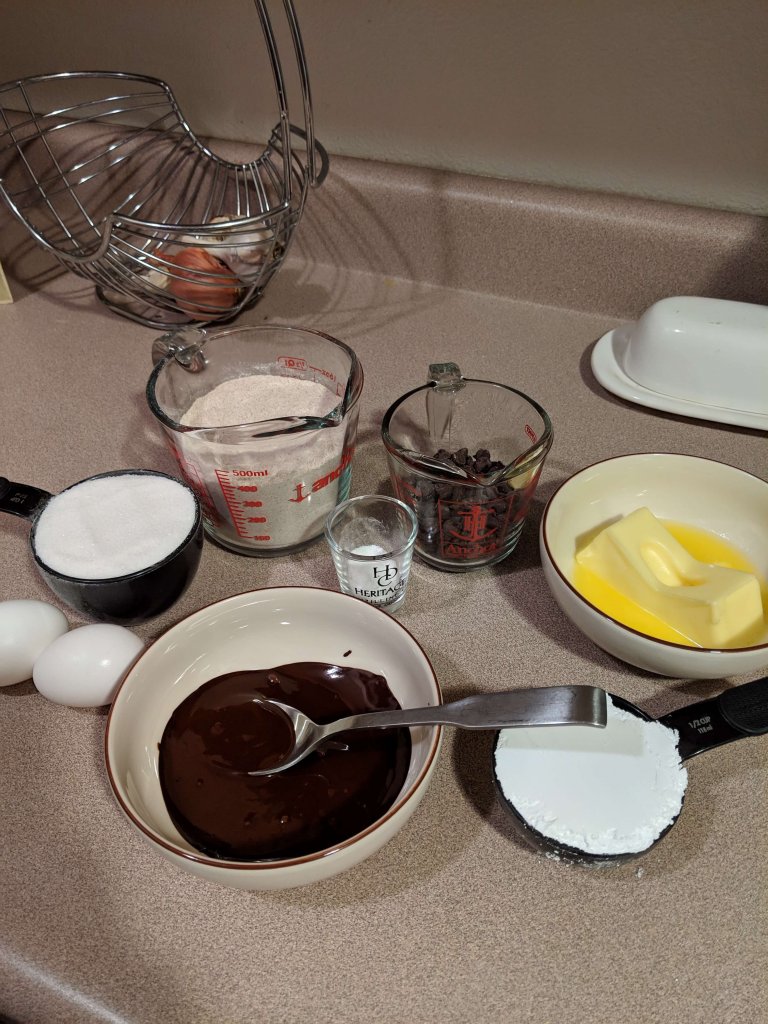 Mix the Dry Ingredients
Alright, let's get moving here. First, mix the flour, baking soda and salt together in a large bowl. Set aside. Easy.
Mix the Wet Ingredients
Next up are the "wet" ingredients. In a large mixing bowl, beat the margarine and sugar until blended.
Beat in the eggs, followed by the melted chocolate until the mixture is nice and smooth.
Gradually beat in the flour mixture. This is where things get tough. Upper arm strength is important if you don't have a quality kitchen mixer.
Add chocolate chips after that and keep mixing.
Chill
Next step is to chill the dough. Pop it in the fridge for 1-2 hours, or until easy to handle. If you're not sure what to do with yourself for the next two hours, I've got a suggestion.
Bake!
Once Macaulay Culkin has helped capture the Wet Bandits, get your dough back out of the fridge. Form the dough into 1-inch balls. Roll each ball into the powdered sugar to coat (generously) and place them on an ungreased cookie sheet 1 inch apart.
Throw them in the oven for 10-12 minutes, or until the tops crack and the edges set. Set them on a wire rack to cool and voila! The perfect Christmas cookie.