Sterner Stuff
A Results-Oriented Digital Agency
If you're looking for an agency to help you take your business to the next level,
you've come to the right place.
Hire Us For
Development
Looking for custom digital solutions for your toughest problems? Our team will develop and deliver a website or web-based app that serves your business.
Hosting & Maintenance
We provide comprehensive monthly hosting and maintenance packages designed for the hands-off business owner. Never worry about security, updates, or running the timer again.
eCommerce
We help brick-and-mortar business owners get online with ease and reach new audiences. Start selling around the globe.
About Us
The Sterner Stuff team is a digital agency that can do it all. In-house, we provide custom development service, best-in-class hosting and maintenance, and eCommerce consulting services. And with the help of strategic partnerships, we can also provide full-service identity, design, and digital marketing.
Mission.
The Sterner Stuff focus is to provide a return on investment to your business. We want to save you time, attract new customers, and put more money in your pocket.
Why Choose Us?
We're the right team for your business. Our expertise and knowledge ensures you get everything you expect, built to last.
With us you'll feel heard. The website and applications we build are driven by client pain points and requirements. By developing exactly what you need and helping your business succeed, we create happy clients that come back again and again.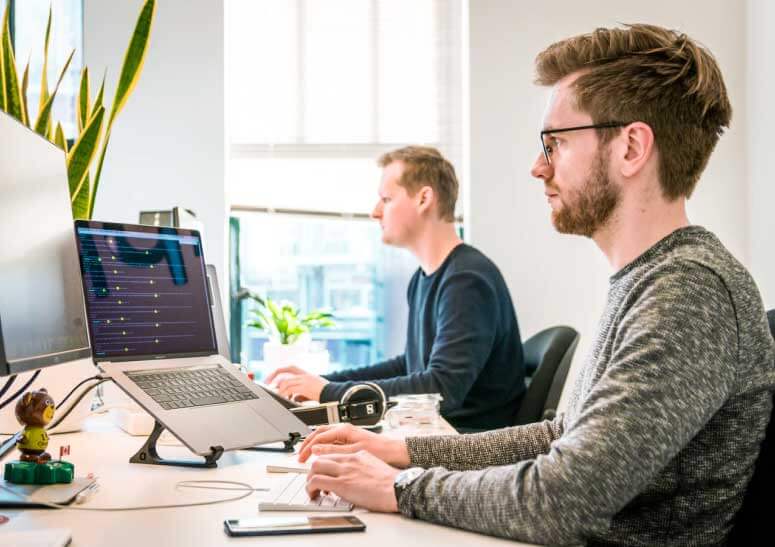 Have a project in mind?
Our consulting services are designed to create hard and fast plans from your big ideas. Let's talk about what we can build together.
With Sterner Stuff, your business will flourish
Working with Sterner Stuff, you aren't growing your business alone. We have your back and put our best into helping your entire team and organization grow. If you're looking for an agency that'll help you build a lead-generating online presence and increase revenue, look no further than Sterner Stuff.
Your Trusted Partners
A Highly Motivated Team with Innovative Ideas
We're a small team, and all entrepreneurs at heart. So when we talk to you about your business and your needs, we're combining our technical expertise with the guts and drive of entrepreneurship. Our work is only as good as the growth it results in for your business online. Surely, your website will be made of Sterner Stuff.
During a recent client site build, we realized we weren't super happy with the base theme we were using. While we quite like Beaver Builder for a page builder, the theme we were wrapping it with just wasn't quite as powerful as we wanted without additional add-ons. So we decided to try and recreate some …
Subscribe to our newsletter
We love passing along tips and tricks to business owners.